7 KID-FRIENDLY RECIPE IDEAS FOR PANCAKE DAY
It's Shrove Tuesday, and we have some great recipe ideas if you're thinking of making pancakes with the kids. You can find the ingredients from all major supermarkets and most local convenience stores.
Cheese and bacon
Why not mix things up this year by going for savoury pancakes? If your kids are unsure about swapping sweet for savoury then pancakes topped with bacon and cheese will soon persuade them otherwise. Mix cheddar and other hard varieties with soft cheese like mascarpone and be sure to use crispy bacon.

Mexican vegetables
We all know it can be a challenge getting kids to eat their vegetables, but that doesn't mean we should stop trying! Make vegetables fun by frying up some onions, peppers and mushrooms with some fajita seasoning for these taco-style pancakes. Top with grated cheese, sour cream and guacamole.

Bacon, banana and maple syrup
Take things Stateside this Shrove Tuesday with these pancakes that mix together two of America's favourite things: bacon and maple syrup. The flavours complement each other perfectly and kids will love the sweetness of the syrup.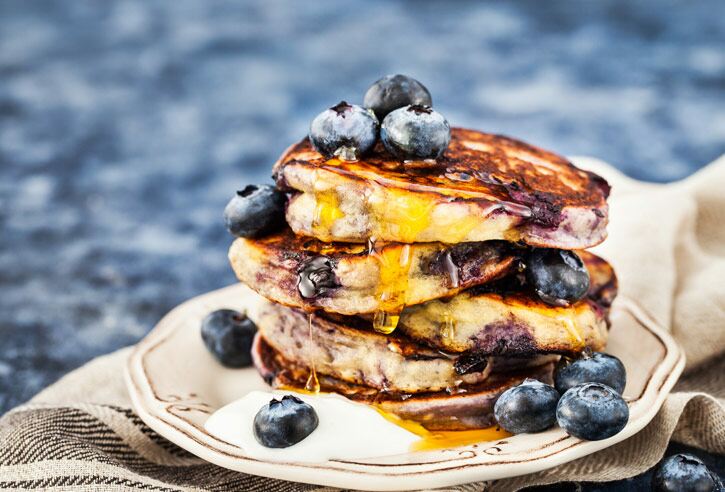 Berry and yoghurt
If you're looking for some healthier options, why not opt for fresh berries and Greek yoghurt? Choose your kids' favourite fruits: strawberries, blueberries, raspberries – they're all good options! For an added dash of sweetness, squeeze a bit of honey all over.

Apple and cinnamon
You might not be able to properly recreate the taste of an apple pie on Pancake Day but you can have a good go at it by filling your pancakes with apple and cinnamon. Soften the apples in a saucepan and add plenty of cinnamon for that warm, apple pie flavour before topping off with a scoop of vanilla ice cream.

Chocolate spread and raspberry
Add a little decadence to your Pancake Day with this ultimate kid's favourite. Chocolate spread might be a well-established pancake topping, but adding raspberries not only makes the flavours pop it can also provide some of those much-needed vitamins.

Lemon and sugar
Sometimes the classic is simply the best and as far as we know, lemon and sugar still haven't been overtaken as the nation's favourite pancake topping. As well as tasting great, lemon and sugar is also super easy to prepare, meaning your little ones can take care of themselves. What's not to love?
If you like our pancake recipes we are sure you will also like our socks too, visit our website or visit us in store and view our collection
Remember your high street plays a huge part in the success of your local community. We at OFFiGO want to help support local businesses by connecting you to what is available on your high street. Sign up today to receive exclusive weekly offers and events for your area.
Back to high street news
DISCLAIMER
This news section brings together positive articles about the high street from other websites, other contributions include guest writers and blogs written by businesses. Some individual articles have a read more button which will link you to continue reading on the original sources website. If there's a problem with this page
Report it here